Celebrate 150 years of Printemps during the Paris summer sales
Publish on Friday, 10 July 2015 in Fashion & Shopping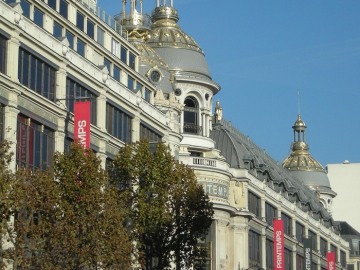 During 2015 a certain world-famous Parisian department store is celebrating a century and a half of existence. To mark this significant 150th anniversary, Printemps has almost a full year of special events, great offers, fun and games to share with you. Furthermore, in July the Paris summer sales are at their height, providing further opportunities to celebrate the Printemps anniversary.
Festivities around the 150th anniversary of Printemps
Since March 30, all the Printemps stores have been offering numerous events, attractions and gifts to celebrate the 150th anniversary of this Parisian institution. This anniversary is symbolised by Rose, an all pink and cuddly mascot whose head is surmounted by a flower. You will, of course, find Rose in every branch of Printemps, but it's the original store, founded in 1865 and located on the Boulevard Haussmann in the 9th arrondissement of Paris, which lies at the heart of all the celebratory fun. Here, a giant sculpture of Rose welcomes you in front of the renowned Parisian boutique and the famous display windows have been dressed by several leading designers. In honour of the season from which the store takes its name (spring), Printemps Haussmann also showcases a huge floral display. No less than 5,500 blooms with huge stems and bright petals adorn the store's façade, lending a cheerful, rosy complexion which illuminates the building. Inside Printemps Haussmann, the Maison du Chocolat has continued the theme, with an ephemeral store and displays of the art of the chocolatier. Here you can enjoy some truly original flavours and specially created treats. This is where chocoholics can really live the dream!
Enjoy bargain hunting during the Paris summer sales
If the 150th anniversary of Printemps is not enough to convince you to book a room here at the Grand Hotel du Bel Air, then we have another great reason to convince you to visit Paris this summer! On June 24th the official summer sales began right here in one of the world's great shopping cities, and the bargain hunting fun and knock-down prices will continue until August 4th. It's an opportunity for visitors to this capital of fashion to enjoy a wide choice of couture and accessories, as well as all the many other goods on which prices are reduced during this sales period. However, this year, as though in honour of Printemps, colours and prints are trending. The six weeks of the sales will certainly be colourful in Paris. Shops will display markdowns of 30%, 40 % or even more on clothes and fashion accessories in denim, gingham and floral patterns having the flavour of the 1970s, a decade which is also reflected in the long gypsy dresses and fringes available. Don't hesitate to hunt through the various neighbourhoods to find the bargains that are just right for you and remember, between shopping forays there are some charming Parisian café terraces ready to welcome you with refreshments, so take the time to relax, too.
******
Le Printemps - see more
PARIS HAUSSMANN - 64, bd Haussmann - Paris 9th district - tel : 0033 1 42 82 50 00
PARIS ITALIE 2 - Shopping mall, 30 avenue d'Italie, Paris 13th district - tel : 0033 1 40 78 17 17
PARIS LOUVRE - 99 rue de Rivoli, Paris 1st district - tel : 0033 1 76 77 41 00
PARIS NATION - 21-25 Cours de Vincennes, Paris 20th district - tel : 0033 1 43 71 12 41
~oOo~
Original picture copyright holder : Roof and cupolas store « Le Printemps » by couscouschocolat, on flickr (original picture)
---
Grand Hotel du Bel Air, in the heart of the lively Nation area in Paris
« Back to articles