Christmas Shopping in Paris
Publish on Tuesday, 10 November 2015 in Fashion & Shopping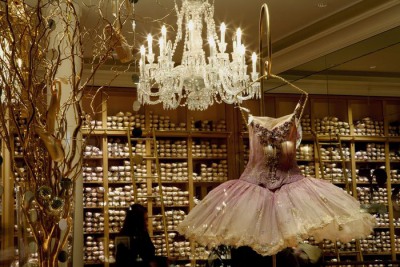 Temperatures drop and snowflakes land on the tip of your nose. Bleak December could be a very sad period without the joy of Christmas. But, fortunately, we have the festivities to look forward to, so Paris dresses in a thousand lights and invites you to share some very special moments during this magical season.
Happy Anniversary Printemps!
If you've decided to fill your gift basket with purchases from the retail capital of the world, you'll certainly have a wide choice. During Advent, Paris offers many ways to play Santa Claus. One of the ways, which you are guaranteed to enjoy, is by shopping at the world-famous Printemps department store, which is celebrating its 150th anniversary in 2015. Located on the Boulevard Haussmann in the heart of Paris, this brand has become a byword for those who love luxury and style. From November 5th this glitteringly magnificent store's display windows will transport shoppers into another world. Imagined and designed by the most fashionable creators, the displays will show you a place where magic and dreams mingle. This year the displays are actually interactive, offering shoppers the opportunity for a unique experience via their smartphones. And, to complete the enchantment, Printemps offers exclusive products and limited editions to celebrate the brand's special year, as well as a retrospective of 150 years of fashion.
A multitude of gifts under one roof
Another great place for Parisian shopping, the Beaugrenelle mall, awaits you close to the Eiffel Tower. In an area of over 50,000 m², there's a vast array of shops, including purveyors of luxury items, gourmet foods, ready to wear and much more. There's also a multiplex cinema. Curving lines, metallic mesh, glass facades and airy atriums help to make this a shopping centre for the 21st century, yet at Christmas the Beaugrenelle turns red and white and welcomes Santa. You can buy everything you need to decorate the tree, as well as your Christmas dinner table.
Handicrafts and gastronomy
However, if your tastes in shopping run to the more traditional, Paris offers a number of delightful Christmas markets. The biggest of them is La Defense, where more than 350 picturesque wooden chalets filled with all manner of goods await you from November 19th. Smaller but equally charming, the markets of the Champs Elysées, with its 400 trees adorned with Christmas lights; the Place Saint-Sulpice and its handicrafts; and the Place Saint-Germain des Prés allow you to discover special gifts or fine foods to please all your friends.
Christmas lights
The City of Light never forgets to shine and the most beautiful avenue in the world is more glorious than ever at this time of year. Close to the Grand Hotel du Bel Air, you'll discover a magical world of light between 17:00 and 2:00, as the illuminations adorning the 300 trees of the Champs-Élysées glow merrily to guide Santa. Finally, to complete your year-end stay, the New Year parade will begin 2016 in style. It begins on the Champs-Élysées from 14:00.
******
• Shopping in Paris
• Department store Printemps
• Shopping hall Beaugrenelle
• Christmas Arch (Arche de Noël) at La Défense - november 19th to december 27th 2015 - Metro line 1, station Grande Arche de La Défense or RER line A2, station La Défense
• Christmas market at Champs Elysées, Paris 8th - november 15th to january 4th 2016 - Metro line 1, 2 or 6, station Charles De Gaulle Etoile or RER line A, station Charles De Gaulle - Etoile
• Christmas village at Saint-Germain-des-Prés - Paris 6st - december 2015 - Metro line 4, station Saint-Germain-des-Prés
~oOo~
Picture copyright holder : Tourist Office Paris - Photographer Amélie Dupont
---
Grand Hotel du Bel Air, in the heart of the lively Nation area in Paris
« Back to articles