Christmas in Paris 2013 with many merry attractions
Publish on Thursday, 5 December 2013 in Visit Paris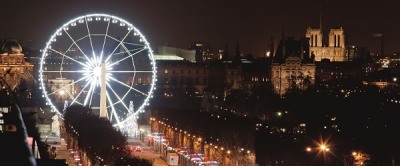 Christmas in Paris 2013 is shaping up to be the best Christmas in the capital so far. Although always lovely, the city is being transformed into a Winter wonderland as the season approaches. Not for nothing is Paris referred to as The City Of Light, and at this time of year that claim holds true even more than usual. For Noel the city is decked in enchanting lights and all manner of delightful attractions spring up to capture your heart and imagination. Located close to the Metro and the RER A line, the Grand Hotel du Bel'Air is so convenient for enjoying a Parisian Christmas.
Christmas in Paris 2013, festive wonders of the city
With so much going on in Paris at this time of year it is difficult to decide how best to enjoy it all. So please allow us to give you a few ideas. Why not stroll around the beautifully decorated city, admiring the Christmas illuminations and the festively dressed shop windows? The Champs Elysees in particular looks truly magical, with its 200 trees decked in colourful lights, and the department stores for which Paris is famed turned into enchanted grottos by talented designers.
Discover the Christmas villages of Paris. These charming clusters of wooden chalets can be found all over the city, selling a plethora of goods, handicrafts, foodstuffs and local produce. Here you might find just the gift you are looking for, or a festive treat for yourself. Perhaps you might feel in the mood for a little ice skating. If so, why not join the merry skaters who assemble in front of the city hall where an open air skating rink is provided and the atmosphere is joyous? Then why not enjoy the regular seasonal sound and light shows provided within the exquisite surroundings of Notre Dame Cathedral?
Christmas in Paris 2013 in the warmth of the Grand Hotel du Bel'Air
The welcoming Grand Hotel du Bel'Air offers a warm Yuletide atmosphere and a wide selection of rooms from which you, your family or friends, can experience the magic that is Christmas in Paris.
Copyright : Champs Elysées Lights 2011 - Tourist office Paris - Photographer Jacques lebar
« Back to articles