The Paris Autumn Fair: a seasonal event for all
Publish on Monday, 5 October 2015 in Fairs and tradeshows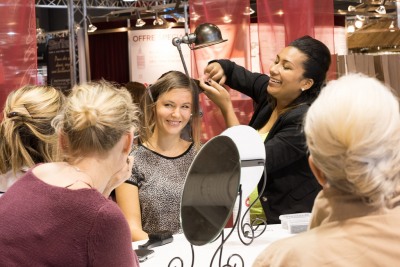 It's autumn and the face of Paris is beginning to change, reflecting the loveliness of this mellow season. When staying at the Grand Hotel du Bel Air, you'll have the chance to participate in the Paris Autumn Fair ('Foire d'Automne'), a major annual event that this year will bring together over 300 exhibitors from October 23rd to November 1st. On this occasion, visitors will have the pleasure of discovering five different worlds arranged throughout the pavilions at the Paris Expo Porte de Versailles: Explore the World, Discover and Innovate, Take Care of Yourself, Eat Well and Live Well at Home.
Discover all the latest technological innovations
Are you a big fan of new technology, always on the lookout for the latest innovations in the field? The Discover and Innovate space at the Autumn Fair offers a whole universe dedicated to new technological trends, where you'll not only see the latest gadgets and developments, but also have the opportunity to actually try them out!
Travel the world without leaving Paris
At the Autumn Fair, you can discover the various cultures of the world through the Explore the World space. Discover or rediscover the cultural wealth our shared globe has to offer when you meet with the twenty exhibitors presenting the clothes, jewellery, accessories and typical dishes of their countries, along with many surprises. It's a kind of sensory safari that you can enjoy without even leaving Paris.
A meeting place for fun
Now that the days of warm sunshine and days spent by the pool are behind us, it's time to ensure that your body is in tip-top shape for the coming months. You can discover all the latest ways to take look after your body, maintain your level of wellness and stay looking good at the Take Care of Yourself space at the Autumn Fair. On offer will be spa sessions, a sports area, dietetics advice, cosmetics testing, relaxation techniques and a whole host of tips and tricks to keep fit and have perfect skin. And for your pleasure and convenience, this 1600 m2 space also offers various attractions such as the 'Bar des Copines', with its workshops and activities and, new for this latest edition, the opening of a dedicated 'Men's Corner'.
The Eat Well space
Lovers of gastronomy and savoury food lovers will be delighted. The stands of this 2700 m2 universe invite you to share special moments with recognised cookery professionals and foodie specialists. Whether you want to discover new techniques and tricks so you can cook like a chef, learn about farm production, or discover great or new wines courtesy of the Fair's guest wine growers, everything is designed to offer you a hugely rewarding visit.
The Live Well at Home universe
Here you'll find a hundred exhibitors who are waiting to offer an array of solutions for helping you improve your daily home life. You can make contact with a professional designer to renovate your home, arrange for an open fireplace to save on the heating bill, learn the benefits of energy saving and automation, and much more.
******
Practical Informations - Autumn Fair
Exhibitions halls at Porte de Versailles, pavilions 2.2, 2.3 et 3
from friday October 23th to sunday November 1st
Openig time: 10h - 19h without interruption including November 1st.
~oOo~
Picture copyright holder : The picture is from the official website of Autumn Fair foiredautomne.fr. Reproduction rights are reserved and strictly limited.
---
Grand Hotel du Bel Air, in the heart of the lively Nation area in Paris
« Back to articles