End the summer in style: Rock en Seine and gastronomy
Publish on Monday, 10 August 2015 in Entertainment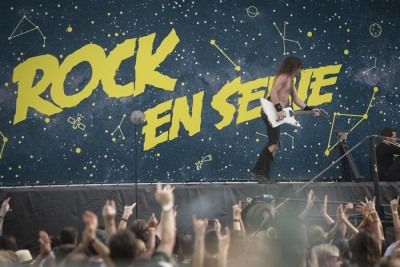 Each year, at the end of the school holidays, the Parc de Saint-Cloud plays host to the biggest names in rock and pop and a host of rising stars, too, as the Rock en Seine festival arrives. This great celebration of music ends the summer, and then the Fête de la Gastronomie announces the coming of autumn.
Paris celebrates rock music: new discoveries and popular favourites
The Rock en Seine festival lasts for 3 fun-filled days. This year, August 28th to 30th will be the dates to mark on your calendar. Although it is now possible to pitch your tent on the spot, for the maximum in comfort you'll be far better off staying at the Grand Hotel du Bel Air. The journey by Metro from here to the festival is short and convenient, so you can enjoy a good night's sleep and enjoy the music and atmosphere of the event to the full. Before entering the section of the park reserved for the festival, you will be able to explore the quiet byways of the Parc de Saint-Cloud. A natural site of 460 hectares, this park is one of the most beautiful in Europe.
Then, fully refreshed, go and enjoy the live music of your favourite band or an up and coming young performer. Concerts are offered on various stages, each well-spaced from the other. Big names, bringing together the largest number of spectators, can be found on the main stage. You'll find plenty of vendors selling beverages and snacks and the lawn of the park is where spectators sleep, chat, eat or sing in a friendly and warm atmosphere.
Paris celebrates gastronomy at the end of the summer
In 2011, the French gastronomic tradition was enrolled as an intangible cultural heritage of humanity by Unesco. Subsequently, the French government decided to create the Fête de la Gastronomie to help sustain and develop this essential aspect of our national identity. Each year, three days of food-related events are organised, bringing joy to gourmets, gourmands and anyone who is simply curious about what French food has to offer. From September 25th to 27th you can meet purveyors of regional products, livestock breeders, wine producers, renowned chefs and many others heavily involved in gastronomy. The festival takes place throughout France, but in Paris it is a truly unmissable event. Here you can enjoy workshops featuring star chefs and tastings of all kinds of gourmet recipes. Celebrating dining à la française in Paris is like doing a cuisine-oriented mini tour de France in 3 days! Staying at the Grand Hotel du Bel Air, you will be conveniently located to reach any of the gastronomic events you wish to attend, while taking the opportunity to stroll through the beautiful neighbourhoods of the capital!
******
See more at:
• Rock-en-Seine festival 2015
• Domaine National de Saint-Cloud
• Gastronomy festival
~oOo~
Picture copyright holder : Nicolas Joubard - ROCK EN SEINE
---
Grand Hotel du Bel Air, in the heart of the lively Nation area in Paris
« Back to articles