What to do in Paris ; The City that has everything
Publish on Thursday, 5 September 2013 in Visit Paris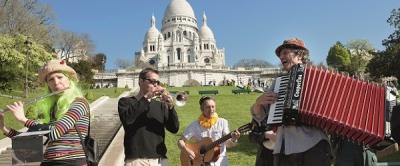 What to do in Paris can be a very difficult decision, because with so much to experience the choice can be almost overwhelming. Fortunately, we at the Grand Hotel du Bel Air are happy to guide you around our beautiful city. Here on our official website we will be pleased to keep you regularly posted about the exhibitions, landmarks, concerts, events and good restaurants we think you'll enjoy. We will also inform you of our hotel news so that you can take advantage of our best available offers and prepare for your next stay amidst the charms of Paris.
What to do in Paris; one of the world's great tourist destinations
Since the Parisii tribe first settled on the Ile de la Cite, an island in the Seine where the High Gothic majesty of Notre Dame Cathedral stands today, Paris has seen more than 2,000 years of history. All those centuries have left an accumulated legacy of culture, art, architecture which makes the City of Light one of the most fascinating and exhilarating in the world.
Here are renowned monuments such as the Arc de Triomphe, the Chateau de Versailles and the Eiffel Tower. We have exquisite parks and gardens, and museums which are the envy of the world, such as the Louvre, home of the Mona Lisa and the Venus de Milo. World class theatres and performance centres, Roman remains, ancient churches, charming districts such as Montmartre, and vibrant boulevards such as the Champs Elysees…Paris has it all! Additionally, our city is one of the world's foremost shopping destinations, an international capital of fashion, and of course the haute cuisine of our superb restaurants is unparalleled.
[caption id="attachment_287" align="alignnone" width="526" caption="Sacre Coeur Basilica and musicians - Tourist Office Paris - Photographer Daniel Thierry"]
[/caption]
The Grand Hotel du Bel Air advises what to do in Paris
Our cosy and welcoming hotel in the heart of Paris stands ready to welcome you to our city. The Grand Hotel du Bel Air is superbly located. We are close to the transport hub of the Place de la Nation, with four Metro lines, one RER line and two bus routes.
« Back to articles