Shopping and leisure in Paris at the Bercy Village
Publish on Wednesday, 20 November 2013 in Fashion & Shopping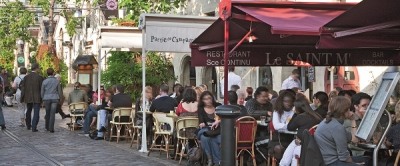 Shopping and leisure in Paris can be found at their most charming in the picturesque environs of Bercy Village, just over a mile's pleasant stroll from the Grand Hotel du Bel Air. Close to the Parc de Bercy and the Seine, this delightful shopping area is like a French village tucked away in the heart of Paris. With an array of shops, art galleries, restaurants and one of the largest cinema complexes in Europe, Bercy Village receives around twelve million visitors annually. Why not come and see why so many succumb to its charms and be enchanted yourself?
Shopping and leisure in Paris where trade and culture meet
For over a century until 1960, Bercy was a district of small wine warehouses. Indeed, the tracks which were used when transporting the wine barrels can still be seen today. Although falling into disuse, it was realised that the area was of historical importance and so it was earmarked for urban renewal. In 1990 the city staged a competition, inviting entrants to submit options for redeveloping the area. The winning architects were Valode and Pistre, whose proposal differed from the rest in that they saw the architectural and cultural significance of Bercy would best be served by leaving the area uncovered and the lovely little cobblestoned lanes open to the air and planted with greenery.
This approach reaped dividends as Bercy Village now has the best of both old and new, with fascinating vintage architecture allied with high end retailers and eating places. It's also a great place for the arts. Exhibitions and displays are often on view and open air concerts are staged regularly. For a relaxed shopping experience with real atmosphere, Bercy should be a must-see on your Paris itinerary.
Shopping and leisure in Paris close to the Grand Hotel du Bel'Air
The beautiful design and décor of the Grand Hotel du Bel'Air, blending vintage and modern, is the ideal complement to Bercy Village. Our helpful staff will show you how to reach this retail haven.
Copyright : Bercy Village © Paris Tourist Office - Photographe : Amélie Dupont
« Back to articles