Unusual ways to rediscover Paris
Publish on Thursday, 10 September 2015 in Visit Paris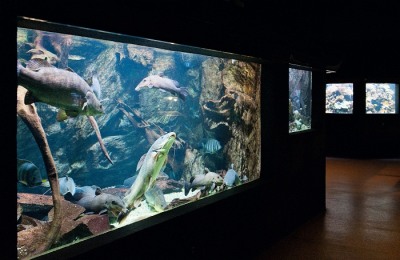 Paris, the City of Light, holds many secrets and has many unusual places to explore. For those of you who want to rediscover the French capital in a new light, here are some of our particular favourite tours and visits. These offer unusual ways and original experiences, as well as places that are little known but richly deserving of your attention. To explore some of the most enchanting locations to be found in our city, why not stay at the Grand Hotel du Bel Air? Here you are welcome to enjoy a peaceful atmosphere in which our full attention is devoted to your comfort and relaxation. So, off we go to discover the hidden side of Paris!
Unusual tours
We've already told you about Paris bus tours, so this time we want to draw your attention to a mode of transport that is distinctly emblematic of France. For an authentically Parisian experience, you can now explore the city aboard an actual Citroën 2CV. The company '4 Roues Sous 1 Parapluie' offers this innovative concept. Their mission? To show you the many delights of Paris from the comfort of the back seat of this iconic vehicle. Choose a theme and enjoy a tour that suits your interests! World-renowned neighbourhoods and monuments are seen from a fresh perspective and your expert driver and guide will tell you all about the places you visit. You can bring the kids, too, as 4 Roues Sous 1 Parapluie also offers tours specially tailored to families! The 2CV tours are for up to 3 people, and a DS will take families of 4.
A magical world beneath the surface
Lovers of aquatic fauna and biodiversity should visit the Palais de la Porte Dorée, where a wonderful surprise awaits. Within this exceptional Art Deco building dating from 1931, you can find the Aquarium Tropical, the oldest aquarium in Paris! Created for the Paris Colonial Exhibition, it houses some 5,000 specimens representing over 300 species. Primitive lungfish, electric eels, albino alligators, turtles, stingrays and the ever-popular clownfish are just some of the wonders to see. You can meet the curious inhabitants of the tropical waters of Africa, Asia and South America, as well as the more fearsome denizens of those parts of the world, such as crocodiles, sharks and piranhas! The Tropical Aquarium offers an unusual and memorable experience that is both fun and educational for all the family; a dip into the fascinating world of exotic marine life.
A green walk in the city's heart
For those who prefer flora to fauna, we recommend a truly unique and verdant Parisian experience. Created in 1988 by Philippe Mathieux and Jacques Vergely, the Coulée Verte René-Dumont - Green Belt René Dumont (formerly the Promenade Plantée) - connects the Place de la Bastille to Varenne-Saint-Maur. This elevated linear park follows the route of a railway line abandoned in 1969. During your walk you'll discover a mixture of wild green spaces and modern landscaping. There's even a shopping area at the Allée Vivaldi. This 4.5 km walk offers delicious moments of relaxation among lime and hazelnut trees, vines, roses and a multitude of other exquisite greenery.
~oOo~
Picture Aquarium Tropical at Porte Dorée copyright holder : Tourist Office Paris - Photographer Daniel Thierry
---
Grand Hotel du Bel Air, in the heart of the lively Nation area in Paris
« Back to articles