The Eiffel Tower is now even better than ever
Publish on Sunday, 5 April 2015 in Visit Paris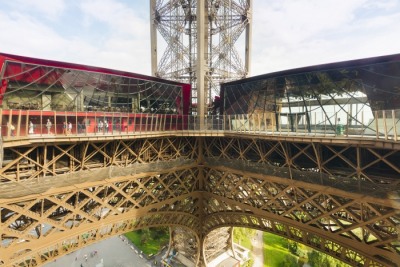 The new look first floor of the Eiffel Tower was recently unveiled to the public at an official opening. Among the guests were the Mayor of Paris, Anne Hidalgo, and the great-great-granddaughter of Gustave Eiffel, the brilliant civil engineer and architect who built the monument. Among other innovations, a section of the floor is now made of glass so that visitors can enjoy a pulse racing view of the city 57 metres straight down. The iconic Iron Lady of Paris is now more dramatic than ever and we at the Grand Hotel du Bel Air are delighted to recommend a visit, along with a glass of champagne while savouring the view!
The Eiffel Tower; one of the world's great monuments
This great symbol of Paris was built for the Exposition Universelle of 1889, a World's Fair marking the centenary of the Storming of the Bastille. Erected in just two years, two months and five days, the Eiffel Tower stood at the entrance to the fair; a breathtaking example of the technological prowess of France as the dawn of the 20th century approached. Nearly two million people came to see this masterpiece of engineering that towered 324 metres into the Parisian sky. Although it was only intended to stand for twenty years, its value as a location for radio transmitters helped it to survive, along with the love felt by Parisians for what had become a grand monument to the greatness of Paris. Today, the Eiffel Tower plays host to some seven million visitors each year.
The iconic monument last received a makeover about thirty years ago and, so that she could continue to delight visitors from all over the world, she has recently undergone 30 million euros worth of renovations to the first floor. The pavilions at either side of the floor have been replaced with beautifully designed glass sided ones affording spectacular views. One of these houses a shop and restaurant, and a space in which you can enjoy an immersive film about the history of the tower, displayed by the overlapping images of seven projectors. Screens, touch screens, digital albums and displays can be enjoyed on the new cultural path of the outer passageway.
The glass floor is of a non-slip design and becomes increasingly transparent as you walk towards the middle. It's an amazing experience and a great photo opportunity. All the new first floor is now fully accessible for people with disabilities.
Head higher up the monument and you can enjoy a refreshingly chilled glass of rosé or white bubbly from the Champagne Bar, open daily from noon to 10:00 pm. Toast the heady delights of the spectacular view of one of the world's most beautiful cities, and also the genius of the great Gustave Eiffel, the man whose vision and determination left a mark on the world in the form of a tower loved by millions.
******
• Monument Tour eiffel :
08 92 70 12 39
Champ de Mars, 5 Avenue Anatole France - 75007 Paris
Subway : Line n°6, station « Bir-Hakeim or Line n°9, station « Trocadéro »
~oOo~
Picture copyright holder : Tourist Office Paris - Photographer Marc Bertrand
---
Grand Hotel du Bel Air, in the heart of the lively Nation area in Paris
« Back to articles