Your modern and cosy room at the Grand Hotel du Bel Air Paris
The Grand Hotel du bel Air Paris, 26 rooms include single, twin, double, triple and family rooms. Each room has its own personality and exceptional décor with unique, authentic furniture and room colours: blue, red or cream.
The patterns used to decorate some of the ceilings and the fabric used for the curtains and bed covers make each room a unique, cosy and warm space where you will enjoy relaxing at any time of day.
Parquet flooring, stylish bedside tables, rare ornaments and antique pictures add to the cosy atmosphere of the Grand Hôtel du Bel Air's rooms where you will find everything you need for your stay.
​Check-in: 14:00 / Check-out : 10H30
Enjoy the amenities and services of our rooms
Each room has its own marble or mosaic bathroom with a shower or hydromassage bath, hairdryer, toilet and toiletries. Some rooms have air conditioning whilst others have fans: essential in the summer.
All the rooms have double glazing to ensure they are soundproof. Rooms also feature a telephone, LCD TV with digital and satellite channels, Wi-Fi connection and a safe.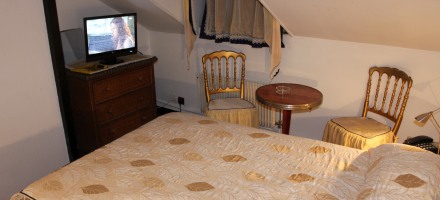 Perfectly equipped for individual travellers.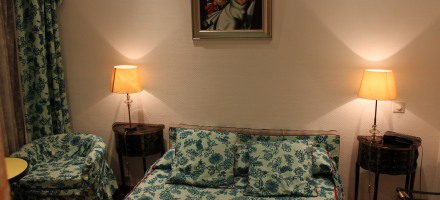 Ideal for romantic breaks in the capital!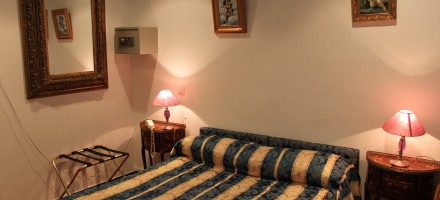 The two single beds can be made into a double bed on request.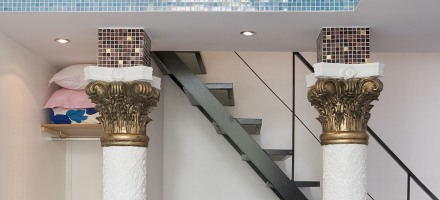 A duplex room with a double bed on the ground floor and a single bed upstairs.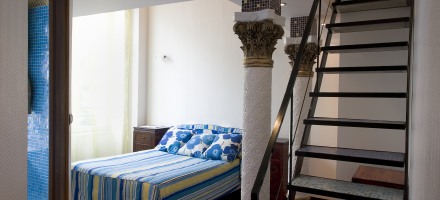 A duplex room with a double bed on the ground floor and two single beds upstairs.
List of facilities Grand Hotel du Bel Air Paris:
Lift access
Double glazing
Air conditioning (at an extra cost) or fans
Wi-Fi connection
Telephone line
LCD TV with French and international channels (digital and satellite)
Safe
Ensuite bathroom with shower or bath, toilet, hairdryer and toiletries
Spare beds/cots available
Spare bed: 10€