Paris Gourmet Shopping for delicious delights
Publish on Friday, 20 December 2013 in Flavours and gastronomy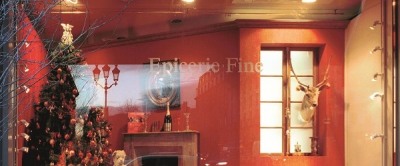 Paris gourmet shopping is one of the most enjoyable experiences the city can offer for the true fine food enthusiast. With a number of superb outlets to choose from, you are guaranteed to find plenty to satisfy your passion. Why not come along and select your gourmet products for the festive season from specialists such as Hediard, Fauchon, Lenotre and Lafayette Gourmet? At the Grand Hotel du Bel'Air you will be close to four Metro lines and an RER line and so have easy access to the cornucopia of fine foods which Paris has to offer.
Paris gourmet shopping; some recommendations
To encourage you to succumb to temptation, allow us to make a few suggestions regarding foodie havens you will love. If you seek specialist teas and coffee, spices, savouries, foie gras, caviar and other of the finest luxury delicatessen products, then read on.
Ferdinand Hediard began his career as a barrow boy selling foreign fruits on the streets of mid 19th century Paris. He opened his first shop in 1854. Today the company he founded, Hediard, is recognised as a Living Heritage Company by the French government, and has outlets across the globe.
Fauchon was established in 1886 by Auguste Fauchon and is now a widespread gourmet food retailer, especially noted for superb confectionary and chocolate, macarons, calissons and candied chestnuts. Lenotre is a luxury pastry and fine food emporium founded in 1957 by pastry chef Gaston Lenotre, who established the first chain of upscale bakeries in Paris.
Within the world famous Galeries Lafayette department store can be found Lafayette Gourmet. This 3,000 square metre section of the store offers over 10,000 products with flavours from all across the world. The tasting bars and deli centres here are a foodie heaven, stocking brands such as Maxim's, Ritz, Costes and Comtesse du Barry.
Paris gourmet shopping from the Grand Hotel du Bel'Air
Allow us to guide your gourmet food shopping tour. At the Grand Hotel du Bel'Air we can advise on and recommend gourmet establishments which will thrill you.
Copyright : Delicatessen Fauchon - Tourist office Paris - Photographer Amélie Dupont
« Back to articles