Unusual trip to Paris; a new perspective on the capital
Publish on Wednesday, 11 March 2015 in Visit Paris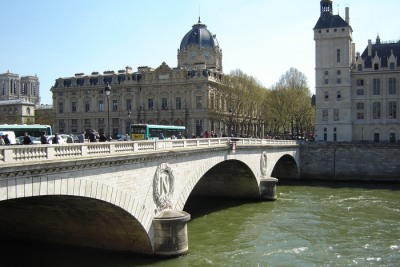 Does the prospect of an unusual trip to Paris appeal to you? Would you like to view the capital from a new perspective, while having your attention drawn to details that you might otherwise miss? Do you want to learn more about this wonderful city, where every building has a story to tell and there are numerous fascinating locations just waiting for you to discover them? If so, then the Archi-Bus is most definitely for you, and we at the Grand Hotel du Bel Air warmly suggest that you treat yourself to one or more of these tours of the less well-known aspects of Parisian architecture.
Take a ride through recent history on the Archi-Bus
The Archi-Bus, as the name implies, will show you some of the architectural history of Paris as you ride the city's excellent public bus network. The RATP is the state-owned public transport company that runs, most famously, the Metro, but it is also responsible for the bus system and more besides. Noting that some of their bus routes pass by interesting places that may be a little off the tourist trail, the company initiated the Archi-Bus project. A number of routes have been chosen, specifically numbers 30, 52, 60, 63, 64, 87, 88, 95 and 96, as well as tram line 3 and Metro line 6. On these routes you can see places of interest, and perhaps hop off and explore for a while before catching a later bus and continuing on your way.
On these routes you will have with you illustrated map guides, each detailing around fifteen places of interest along the way. Filled with fascinating facts, these help to bring your journey to life. You will learn about such architecturally impressive locations as the Institut du Monde Arabe, where the art and culture of the Arab world is displayed in all its colourful glory. The Art Deco splendour of the Piscine Molitor swimming pool, where the bikini was unveiled in 1946. The Palais de Chaillot and its various museums The Luxour, most extravagant of movie theatres The Cirque d'Hiver, where some of the greatest circus shows in the world take place. The Cité de la Mode et du Design, one of the most remarkable contemporary monuments in Paris. These are just a few of the magical places that you will find when you catch a ride on the Archi-Bus.
You can obtain the Archi-Bus guides before you arrive in Paris so that you can plan your journeys well in advance. Go to www.pavillon-arsenal.com or www.ratp.fr to download free copies of whichever routes interest you. Alternatively, you can pick up the guides on the relevant RATP bus lines, from the Pavillon de l'Arsenal, or from any Paris Convention and Visitors Bureau tourist information point.
You might find that when you arrive in Paris your journey is only just beginning.
******
• The RATP bus lines - Archibus
Information to download
~oOo~
Picture copyright holder : Image provided courtesy of JLMD
---
Grand Hotel du Bel Air, in the heart of the lively Nation area in Paris
« Back to articles